Facial Aesthetics at The Dental Team, Manchester…
Here at The Dental Team, we pride ourselves on the fabulous facial aesthetic treatments including, Anti-Wrinkle Injections and Lip Filler to patients (both non-registered and registered) across Stretford, Trafford and Greater Manchester…
We make it our mission to ensure every patient has a relaxed, calm and positive experience at our practice. From the moment you step through our door to the moment you leave and beyond, you should expect nothing less than the highest standard of care from a warm and welcoming team.
To book your consultation with our leading and qualified Facial Aesthetician, Ellie, please call The Dental Team on 0161 864 3250.
We offer Anti Wrinkle treatment to people across Stretford, Trafford and Manchester.
Botulinum Toxin treatments, or Anti Wrinkle injections, deliver the drug to the nerves within the muscles, which blocks signals that usually create wrinkles. This gives a result that lets the muscles relax and creates a smooth and wrinkle-free appearance. All clients must book in for clinical consultation with our on-site nurse prior to an Anti-Wrinkle treatment. 
​
Areas that can be treated with Anti Wrinkle injections:
Forehead: reduce the lines found on the forehead
Frown: reduces the lines created between the eyebrows
Crows Feet: reduces the lines next to the eyes
Bunny Lines: reduces the lines found on the nose
Gummy Smile Drop: drops your upper lip to cover the gums
Lip Lift: can be used in conjunction with fillers to lift the lip outwards
Smoke Lines: soften the lines created around the lip area
Marionettes: reduces down turning around the mouth
Jawline: soften the jawline, which can create a thinner silhouette of the face & can help reduce teeth grinding
Jowls: aids with sagging of jowls and softens the jawline to create a slimmer silhouette of the face
Neck: aids with the sagging of skin and prevention of protruding neck chords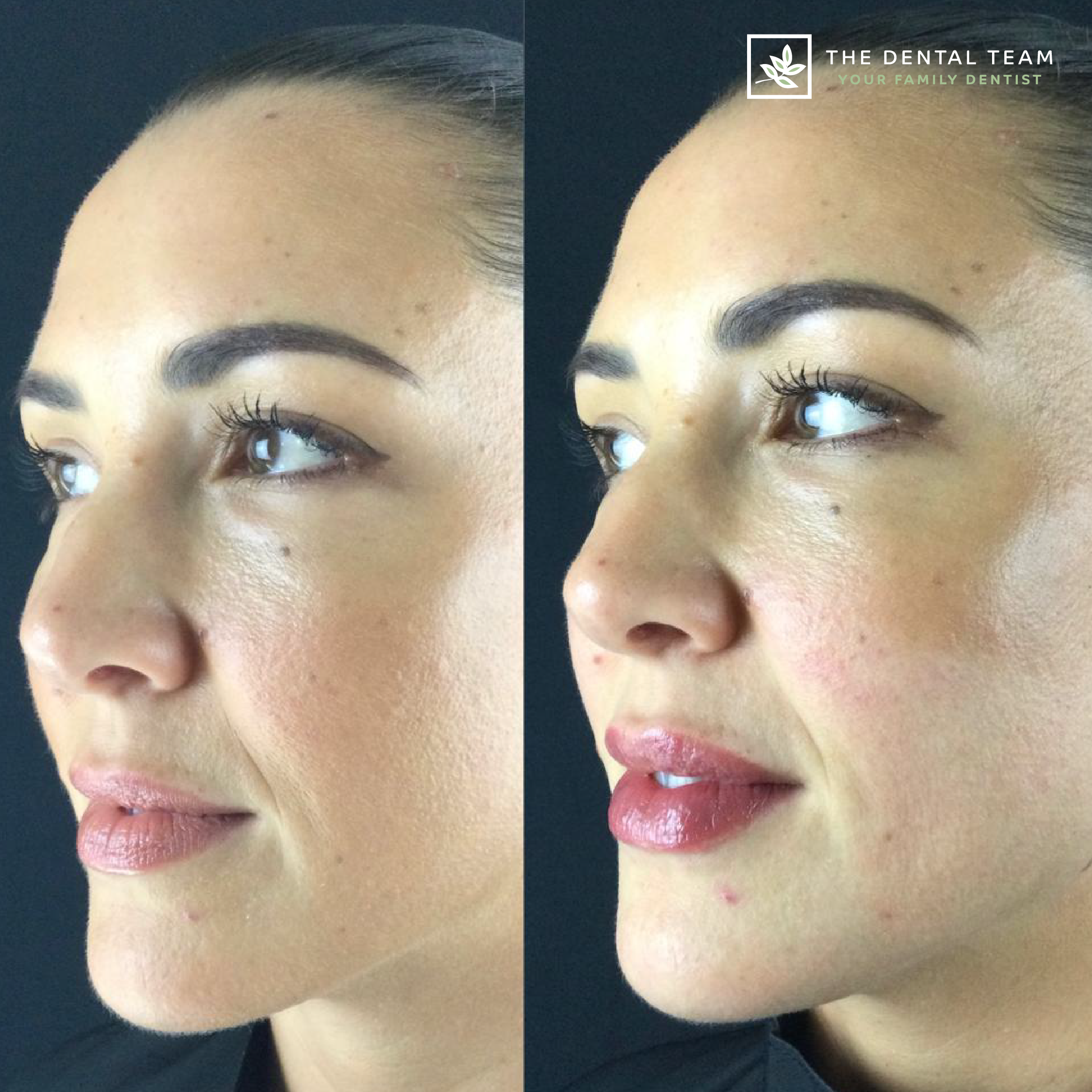 Looking for the perfect pout? Well, we offer Lip Filler treatment across Stretford, Trafford & Manchester…
Lip fillers are a popular non-surgical treatment that requires minimal downtime and is not permanent but long-lasting. Lip fillers are a great treatment whether you require a subtle enhancement, want to add a more glamorous look, remove volume loss caused by age or smoking, or simply just want to plump out naturally thin lips to give a larger look and high definition.
This procedure is also great in changing the shape of your lips, allowing more teeth to be visible, or correcting downturned lips, you may want to consider a lip lift which can be discussed at your initial consultation. We have various products available to suit all client's requirements and can offer a variety of techniques with or without cannula to prevent bruising.
To book your consultation with our leading and qualified Aesthetician, Ellie, please call The Dental Team on 0161 864 3250.
Contact Us
For more information on Facial Aesthetics or any of our dental treatments, please get in touch with The Dental Team.